In 1921 Ethel Waters was picked up by Black Swan Records, a publisher of what were then known as "race records." Initially, race records were for black audiences (right?), but it wasn't long before white people started looking for them, too. Black Swan was a label out of Harlem, and Ethel was one of their first artists. Her first record sold 500,000 copies in six months. This is phenomenal by the standards of the day, and especially so considering that she was among the earliest black artists to be recorded. Ethel's account of her first recording goes like this:
…. I found Fletcher Henderson sitting behind a desk and looking very prissy and important. … There was much discussion of whether I should sing popular or 'cultural' numbers. They finally decided on popular, and I asked one hundred dollars for making the record. I was still getting only thirty-five dollars a week, so one hundred dollars seemed quite a lump sum to me. Mr. Pace paid me the one hundred dollars, and that first Black Swan record I made had Down Home Blues on one side, Oh Daddy on the other. It proved a great success … got Black Swan out of the red.
.
Here's an audio clip of Down Home Blues, 1921, on Black Swan.
The biography Heat Wave by Donald Bogan is an interesting account of the personal and professional life of this complex woman. Her rise from poverty to becoming an actual recording smash and occasional film star really is quite amazing. She had a genuine ability to connect with her audience in a way that feels warm and sincere. Her directness, which was sometimes simply mean-spirited and angry in her personal life, comes across in her work as a kind of intimate honesty. We feel connected to a real woman. To me, there's an element of pathos in some of her work that strikes me as a genuine — not a pose — though it can appear in the silliest of scripted situations. I found myself moved by her sweet singing in this scene from the 1943 film Cabin in the Sky. She's performing here with Eddie "Rochester" Anderson (on guitar) and Bill Bailey (the tap dancer).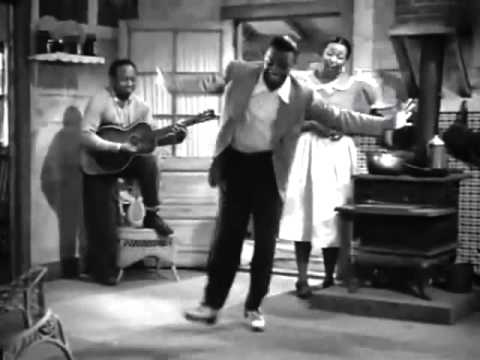 I found another film clip, this from 1933 and a film called Rufus Jones for President. Try to look past the racist mugging if you can and just listen to Ethel — except, well, you might take note of a seven-year-old Sammy Davis, Jr. serving as the judge. It's a shame that the films we have of black performers in this era are often full of racist touches — but they're all we've got. The lyrics to Underneath a Harlem Moon are really pretty weird; the song is written by Mack Gordon, a Polish Jew. Sometimes it's racist, yet in the period it was written was widely performed by black jazz artists. Yuval Taylor on his blog Faking It points out that in the movie, Ethel changes the last half of the song and claims it for her own. (At least we think it's Ethel who changed it? It's hard to be sure about that, I think.) These are the lyrics:
Once we wore bandannas, now we wear Parisian hats,
Once we were barefoot now we wear shoes and spats,
Once we were Republican but now we're Democrats
Underneath our Harlem moon.
We don't pick no cotton, pickin' cotton is taboo.
All we pick is numbers, and that includes you white folks too,
'Cause if we hit, we pay our rent on any avenue
Underneath our Harlem moon.
We just thrive on dancin';
Why be blue and forlorn?
We just laugh, grin, let the landlord in–
That's why house rent parties were born!
We also drink our gin, puff our reefers, when we're feelin' low,
Then we're ready to step out and take care of any so-and-so.
Don't stop for law or no traffic when we're rarin' to go,
Underneath our Harlem moon.
And here is the performance in question, from Rufus Jones for President: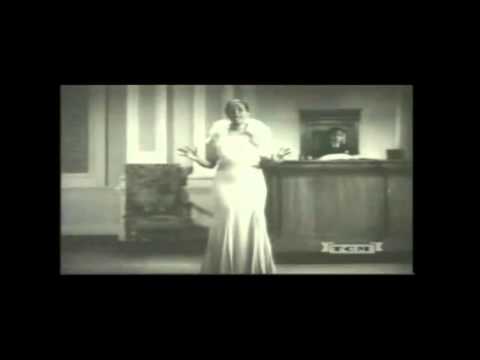 My reading about Ethel primarily goes through the 1930's, so the following comments speak to who she was at that time. (I actually find her later appearances in so many "mammy"-type roles a little depressing.) There's been a lot of discussion about Ethel being bisexual. It's true. But as Donald Bogan points out, and as I've found in all kinds of reading from the era of the 1900-1930's, this was not all that uncommon. A lot of women, especially younger ones, had sexual and romantic relationships with other women, and then went on to marry men. They seem to be a bit iffy on whether they considered themselves to be lesbians; generally, they didn't. There's considerable denial, professing it all to be a kind of experimental fluke. (Maybe it's not all that different now.) Others remained in same sex relationships to some degree or another throughout their lives, as Ethel did, even when she had three husbands. These choices by female performers made sense; they were preyed upon by managers, stage door dandies, producers, and on and on, and they hung together out of protection. (You can even see this in a lot of pre-code movies – think Joan Blondell rolling her stockings behind the stage door. The movies don't show the women sleeping together, but it's often just a kiss away.) Performers had to sleep and dress in close quarters, and sometimes share beds, and, well, it seemed natural. Ethel as a young woman did have a relationship with a dancer, Ethel Williams, that lasted several years, until Ms. Williams got married. (Ethel Williams' story is interesting, too — she was a whiz at the dance the turkey trot, and was in one of the most important early black musical plays, Darktown Follies.) Ethel Waters was apparently a bit of dog for a good deal of her life — she got around and didn't mind who knew it. She was her own woman.